Magnificent house. At €3.2m it required total renovation, though. It has been lightly extended (about 400sqft) and totally renovated throughout, at the cost of many hundreds of thousands of euros, if not €1m+ given that it was a 3800sqft total renovation and small extension back when prices for these jobs were sky high.
I'd say easily €1m.
€3.2m needing major refurb … the mind boggles !
The interior is pretty nice, but the front elevation does absolutely nothing for me; in fact, it would put me off buying the place even if I had the readies to do so.
I believe the phrase you are looking for is 'understated'.
It's a fine line between understated and underwhelming, but I'm pretty certain which side of the line this one falls on!
I think this may struggle at this AMV (i.e. assuming the real asking is +2.5m).
56 Ailesbury sold to a special buyer at auction for 2.4m a few weeks ago on a better road and bigger plot.
If that buyer had not shown an interest, I believe it would have gone for 2.1m.
E garden is one of the more challenging aspects in my view (I think N is better).
I think they should have placed this at a 2m (or even 1.9m) AMV to at least generate interest.
The quoted AMV it is too high for most, but not prestigious / or mint condition & aspect (like 16 Waltham) for the few.
Will be an interesting one to see.
(also - part of the overall strategy to only have a very small limited number of 'good' houses for sale at any time
)
Viewed on the weekend.
Good interior (not to the nearly new standard of 16 Waltham but still very reasonable).
Can't believe they have spent 1m on the renovation (almost 240 sq ft !?!) - more like 400k (max).
Unusual in that they have dug out the front drive to present as a full two storey.
Other equivalents on Waltham have the lower floor half covered with driveway.
Makes this look taller then the others (I think I prefer this).
They are still in retention planning but there have been no objections so it should be ok.
Might (?) affect mortgage buyers (if there are any left at this end of the market!).
Agent felt that would be disappointed to get above AMV and into 2.5-2.7m zone.
Lets be clear, this is an astonishingly ugly house.
The front window proportions are bizarre, the entrance is seemingly suspended in space, it has the sort of cheapo gravel dash I'd expect in some famine-era hovel and the front wall is draped in cabling.
At the back the windows are apparently arranged at random (both horizontally and vertically) and there's more ugly cabling, piping and poorly finished splattering of what looks like plain render amongst the gravel.
As a piece of architecture is has zero redeeming features, and anyone who drops a couple of million on this needs counselling.
I feel sick.
https://photos.myhome.ie/media/0/9/5/2620590/d1622244ca_m.jpg
https://photos.myhome.ie/media/0/9/5/2620590/1215358e36_l.jpg
Any takers for an "Ugliest House in Ireland" thread? It's been on my mind for a while now… Eschatologist, you wanna kick off with this baby?
The back windows are very odd.
Would not class the house as 'ugly'
Seems a harsh assessment.
(btw how do you paste in photos)
Well, for comparison this is what a big box of a house looks like for 2m ish in Edinburgh (I didn't spend long looking so this isn't intended to be a like for like comparison).
rightmove.co.uk/property-for … 31963.html
Note the use of symmetry and how it isn't sprayed with gravel and bits of render.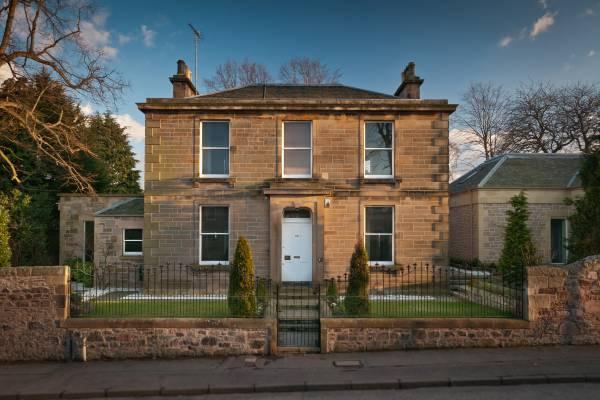 You paste images by finding the URL (e.g. right click image and "copy image URL") and then use the img button above the post body.
Well said. The emperor has no clothes…
To live here, the opportinuty cost / mortgage cost is approximately €12,000 a month (after tax!) …
I was recently in the market at this level (have now recently bought). This is reminiscent of how crap properties all over Dublin were overvalued by delusional sellers and buyers alike …
For me …
Location: ok, Site: good, House: Money-pit, Looks: country-cousin .
It reminds me of the house that looks like Hitler. I'd still live there
I agree I don't think it is a impressive looking house from the outside. If I was paying that kind of money for a house I would want it to look it's money and in my mind this doesn't
I don't look my money…the way I like it. Half the folks in Dublin only look the money they borrowed.
+1
PS any update on what this went for at auction today (plus 58 palmerston as well) ?
Update - Been told that there were no bids above 2m and it was withdrawn.
I was at the auction and can confirm that it was withdrawn with no bids at all.
There was one bid on 58 Palmerston of 1.5m just before it was withdrawn but not sure what happened after that…
I'm (unfortunately) not in the 1m+ bracket for house buying but seems to me that not as much of these 1m-2m houses are being sold for asking price as the EA's would have you believe…?
That is very interesting to hear tomandjerry2011.
I was given the impression that there were bids for 31 Waltham but only to a level.
If you have feedback from other auctions, I would encourage you to post it.