Japanese house prices 1990 until today (or close)
The trend in total prices from 1990 until today. (Urban Land Prices are the metric for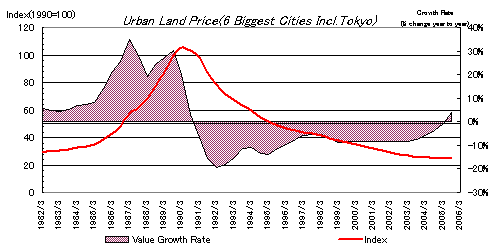 The average annual change since their bubble burst
https://www.matissecapitalmanagement.com/.a/6a00d83452bb8769e20120a506122c970b-250wi
The "typical" house price bubble takes 6 years to unravel based on statistical analysis of 800 years of financial history accross the globe by Rogoff (Harvard University + ex-Chief Economist of the IMF) and Reinhart and falls by 35% in real terms. Given that our boom ended in 2007, that would mean an improvement around 2013.
futurecasts.com/book%20review%2011-10.htm
Our bubble was a lot closer to Japan's in intensity. Their house prices tripled in the 8 years prior to the peak. Dublin house prices almost quadrupled and national house prices tripled in the 10 years before the bust.
https://www.statusireland.com/data/charts/Irish-House-Prices-Since-1996.jpg
Don't be mug