Right so…let me get in there quickly for Cork.
I've managed to secure interest from Sout American investors eager to take advantage of the great property values in the city. They intended on employing everyone in Cork twice and will redevelop the whole country with metros and the like… and they will guarantee Cork gets its independence.
Have I missed anything?
Is "delusion" an option in the cycle of market emotions?
Thats great, but how the fuck are they going to make a return on their multi-billion euro investment from a town of 90-100,000 people?
Presumably bulldozing the Crescent and the Parkway will be part of the masterplan? Limerick already has too much retail for its poulation in the burbs now. That's why the city centre is fupped.
Is this guy selling a hotel I wonder. You'd have to be pretty cashed up and thick to stay in a hotel for a decade.
Hence the Middle East reference. Casual racism.
Well done put me down for a few bob… and I suppose they'll put a jetty/pier in every harbour, inlet that presently doesn't have one. I seem to remember they had a bit of difficulty getting produce ashore down around Mizen a few years back.
Before I commit the "idle tower" will have to be renamed…
I thought we had "independence"…
It is like the premiership in soccer. Bankrupt towns queueing up for the next Abramovich. Being from Limerick I hope this consortium is more Chelsea than Leeds
I'm feckin' tellin' yah… Many a true word spoken in jest:
viewtopic.php?p=266219#p266219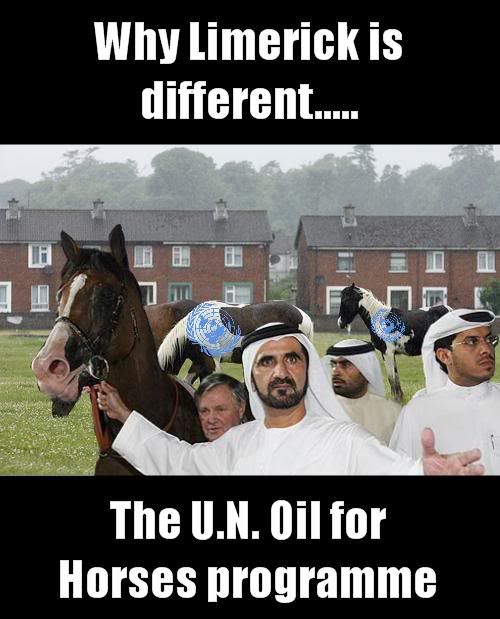 Or more anything than Pat Grace.
It's rumoured that this development is planned for the Dock road area or maybe directly across river from that.
I came across a thread on Boards.ie that i thought was interesting in respect to its timing and the location of it.
For some reason, reminds me of the "vega city" disney park that was proposed for North Dublin back in 2003
independent.ie/national-news … 97662.html
Somebody trying to fast-track some zoning/planning decisions here?
I'm waiting for the Irish Mail "fake sheikh" story…
Great stuff altogether. Sure with all of this money floating around limerick they're sure to have the sponds to be able to pay for that pie-in-the-sky river-front development they were talking about a few years back. I saw an artists impression of it in the paper a few years back - it looked great - like the Jetsons or something.
The fact that at least one of the fake sheikhs overleaf is Eric Cantona can only add to suspicions.
Riverpoint???
Already done.
And a fine job too.
viewtopic.php?f=54&t=27181&hilit=Limerick+fordmount
I don't think it was Riverpoint. This was something I saw in the Limerick Post and they had an artist impression and it looked space-age but it was still only in the planning stages and the wheels were already coming off the cart at that stage so I don't think it happened. Well I know it didn't happen - because if it did then the riverfront in Limerick would look fantastic and as it is it only looks okay.