Some more updated analysis on public service costs. This shows that Public Service costs are just not being addressed.
Chart 1 shows the increase in the population, number of public servants and the cost each person pays for the public service over the years 1990 – 20011.
Chart2 shows the cumulative rate of increase of population, relative size of public service, cost per individual public servant, CPI and total cost of public service. The dashed line shows the "expected" rate of increase base on the combined rate of increase of CPI and population. Again expected here assumes there are no savings due to efficiencies, economies or other factors such as technology.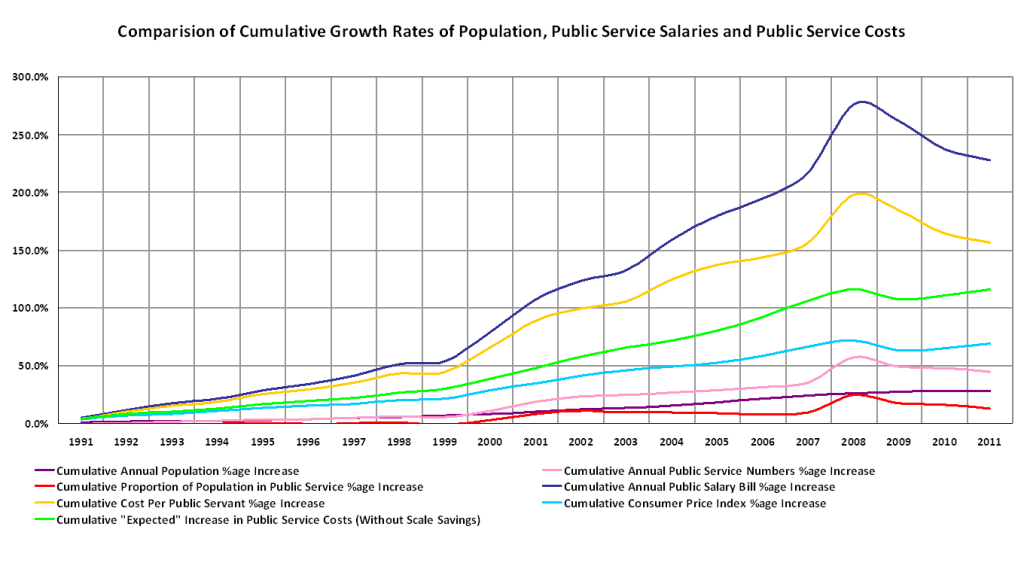 The row ""Expected" Increase in Public Service Costs" shows a view of the expected increase in public service costs based on the increase in population and CPI. For example, if you are providing a service to a population of 100 people at a cost of €10 per person, your total costs are €1,000. If the number of people increases by 20% to 120 and the cost of the service increases by 40% to €14, your total costs are €1,680 or a total increase of 68%, that 20% plus 40% plus 20% or 40% (or 40% of 20%, it is the same). This assumes that there are no savings to be achieved through efficiencies, economies of scale, loading or scope or by the introduction of new technology that offset the pure expected increase.
In summary, over the interval 1990 to 2011:
[code]Total Population Increase 27.91%
Number of Public Servants Increase 44.13%
Average Public Servant Weekly Salary Increase 134.90%
Public Service Salary Bill Increase 227.81%
Public Service Cost Per Person Increase 156.28%
Consumer Price Index Increase 68.93%[/code]
So when CPI increased by 68.93%, public service wages increased by 134.90%.
While the propulation increased by 27.91%, the number of public servants increased by 44.13%, so average weekly salary increased by 1.96 times CPI.
The cost per public servant for each person increased by 156.28% while CPI increased by 68.93%, so the cost per public servant increased by 2.27 times CPI.
The combination of these two increases means public service salary costs increased by 3.30 times CPI in the interval 1990 to 2011.
Does the public service deliver 3.3 times the value for money it did now than in 1990? Also, this 3.3 assumes no improvements in productivity.
Chart 3 shows private and public sector employment by quarter from 2008Q1 to 2011Q3. While private sector employment has dropped by 16.79%, public sector employment dropped by 5.78%.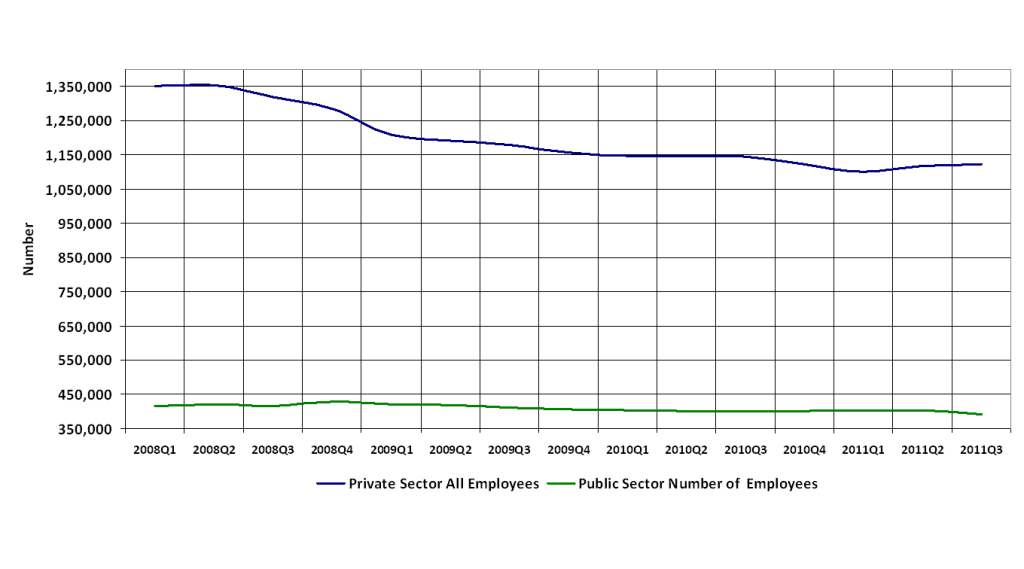 Chart 4 shows public and private sector average weekly earnings. Public sector earnings are consistently nearky 50% greater than those of the private sector.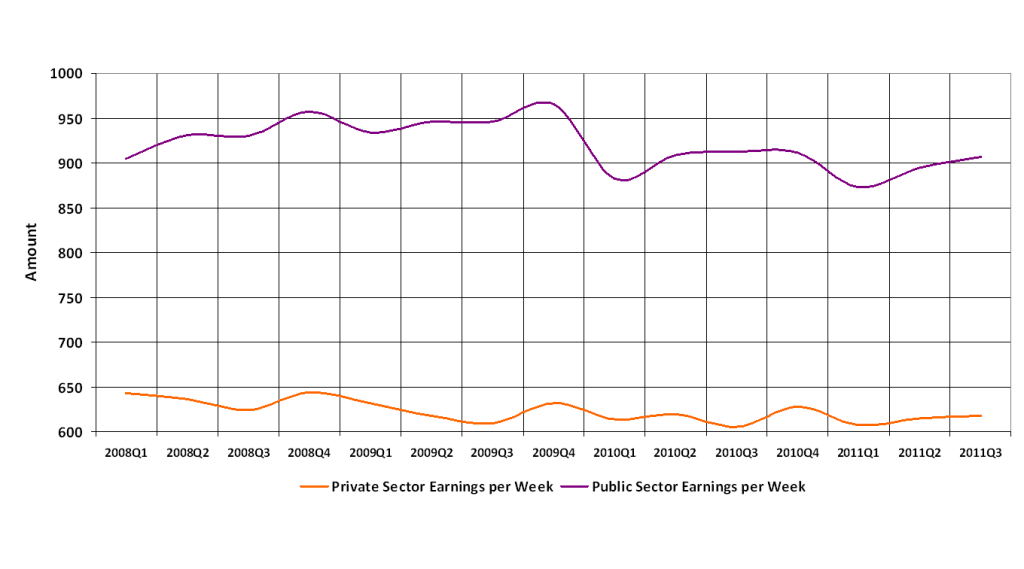 Chart 5 shows public and private sector average hourly earnings.
The detail of the data sources is:
Total Population (Thousands)
Various sources including:
cso.ie/en/media/csoie/releas … 202011.pdf
Number of Public Servants (Thousands)
Taken from two sources:
PSQ01: Employment and Earnings in Public Sector - runs up to 2009Q3 (cso.ie/px/pxeirestat/Statire … language=0)
For earlier parts of this time series, values are shown for Q4 of the year. While later years (2002 - 2009) show data for all quarters, I have taken the value for Q4 for consistency.
In the case on 2011, data is only available up to 2011Q3.
The differences between PSQ01 and EHQ08 include PSQ01 did not include substitute teachers and parttime employees were counted differently.
For 2008Q4, the PSQ01 number was 373,300 and the EHQ08 number was 427,300, 14.5% increase.
Public Service Salary Bill (Billions)
As before taken from two sources:
EHQ08 Employment, Hours and Earnings by Quarter, Private or Public Sector and Statistic - 2008Q1-2011Q3
PSQ01 Employment and Earnings in Public Sector by Type of Public Sector Employment, Quarter and Statistic - 1988Q1-2009Q3
Public Service Salary Bill = Earnings per Week multiplied by Number of Public Servants
Consumer Prices Index
Taken from:
cso.ie/en/statistics/prices/ … riceindex/
CPI value taken for All Items
The failure to maintain a consistent time series for Employment and Earnings in Public Sector is a bit annoying, While the old measure underestimated the size of the public service, the lack of a consistent measure makes analysis difficult.