I think most of sky news is owned by Comcast (also own NBC) whereas sky news Australia is still owned by NewsCorp (Murdoch)
Who had nuclear war/meltdown on their bingo card for August?
A nuclear reactor meltdown is scare-mongering. Russia are intending to incorporate this territory into theirs, they are not going to allow a reactor to blow up on their land.
My thoughts as well, hence the bingo card comment! But it hit the narrative this morning…
HOUSE!
"Hot August"
So by the end of this week we'll see headlines like:
"Moscow announces government backed maritime insurance scheme for oil tankers"
If it seems out of whack, then it's probably comms for information they do not want revelled to the world. Really bad things they need to keep out of the mass mind and the story suggests that they are not actually in control of it this time. They have lost control/access to control the fallout from a devastating information release yada yada yada.
A Real Man?
I didn't really get into the Sabina letter thing, but reading some of the political ratio last II.
reactions was twilight zone e level - I don't mind if they play the vax damage card.
The deal between Moscow and Kyiv to unblock Ukrainian grain exports may offer a way forward to a possible ceasefire in the five-month conflict, said former German chancellor Gerhard Schroeder, a friend of Russian president Vladimir Putin.
So it's ok for a cis-man to call for peace?
In other news - David Trimble, Timing Lord or wha?
Zelensky wants talks with China

The Ukrainian president would like to "directly" speak with China's President Xi Jinping, to talk him into pressuring Russia

Ukrainian President Vladimir Zelensky said on Thursday he would like to speak "directly" with Chinese leader Xi Jinping, as he urged Beijing to use its economic and political leverage to stop the conflict in his country.

In an exclusive interview with the South China Morning Post, Zelensky noted that he had not spoken to the Chinese leader since the start of Russia's military offensive in Ukraine.

"I would like to talk directly. I had one conversation with [President] Xi Jinping that was a year ago," he said. "Since the beginning of the large-scale aggression on February 24, we have asked officially for a conversation, but we (haven't had) any conversation with China even though I believe that would be helpful."

… Zelensky stressed that he wants to see China redefine its stance on Russia, but understands why Beijing is seeking a "balanced" approach.

"This is a war on our territory, they [Russia] came to invade. China, as a big and powerful country, could come down and sort of put the Russian Federation [in] a certain place," he said. "Of course, I would really like China to review its attitude towards the Russian Federation."

Zelensky said he believes China has the means to make Russia stop its offensive.
I wonder who the Head of State of Ukraine is, someone should give them a call or send them a DM on twitter or something like that eh and tell them about this guys ideas… and then maybe Sabina could facilitate a afternoon tea in the Park on neutral territory to get the Peace process started?
"I'm sure that without the Chinese market for the Russian Federation, Russia would be feeling complete economic isolation," he said. "That's something that China can do – to limit the trade [with Russia] until the war is over."

The Ukrainian president also warned of the long-term global consequences of the conflict, which he predicted will harm food and energy security and also slash Chinese exports. According to Zelensky, due to the ongoing hostilities, many countries are spending more on food, fuel and weapons rather than other goods.

"The people would have to pay for energy resources rather than for products coming from China … Exports from China would be decreasing. That's 100 per cent," he reiterated.
Friends.
Ah here Zel, FFS
"Ukrainian forces have put civilians in harm's way by establishing bases and operating weapons systems in populated residential areas, including in schools and hospitals, as they repelled the Russian invasion that began in February, Amnesty International said today.
Such tactics violate international humanitarian law and endanger civilians, as they turn civilian objects into military targets. The ensuing Russian strikes in populated areas have killed civilians and destroyed civilian infrastructure. "
Of course they're consciously doing this. They need to be able to parade dead Ukrainian civilians, and blame Russia to provoke a response from the West to send more weapons.
Russia has actually showed remarkable restraint in the war, so much so that The Ukraine has decided to resort to false flag incidents to create their own atrocities.
I wouldn't exactly call invading a neighbouring country "remarkable restraint", not invading would have been considered restraint.
If you go back a bit and think about the "nuke" going off the coast of Britain scare emanating from the Russian TV guy, again, that could have been clear signal we're going to release or can release explosive information, so watch out - meanwhile the mass public mind is confused, bewildered, scared or freaked out of it's mind.
Releasing devastating information would be equivalent to nuclear option in an info war, as it would do so much damage it would be like nukes going off in whatever established power base, matrix, regions, government etc. etc. and thus utterly destroying them.
Then you read this, and think - was this what the "nuclear" comms was about?
The Russian MIL have been studying biological samples from surrendered Ukrainian soldiers, and what they have been finding is beyond disturbing. Approximately 20% of them carrying West Nile pathogens, which were being studied "by the Pentagon as part of the Ukrainian UP-4 and UP-8 projects". Suggesting that Ukrainian soldiers are being subject to involuntary biological experimentation and exposure to biological weapons (think Nuremberg).

In addition to carrying pathogens, nearly all of the surrendered Ukrainian soldiers carried traces of a wide variety of narcotics and opioids, including Meth and Codeine.

Russia were sure to remind us of the Nazi's usage of methamphetamines in WW2. I covered this 2 weeks ago, when the left-wing media tried to spin this reality as some sort of X-men mutant conspiracy theory. No, they are just Nazis, and historically, Nazis use drugs. Particularly as an advantage in war.

Russia goes on to cite that this methamphetamine Ukraine are using, Pervitin, was also used by US soldiers during Vietnam and Korea. It's designed to reduce the psycho-emotional burdens of war.

However, an intended side effect is excessive aggression, which Russia alleges is one of the main factors for the Nationalist Ukrainian forces displaying "extreme cruelty" to civilians and the shelling of their own people in Donbas. Ukraine are using mind-numbing agents on their forces to make them more susceptible to carrying out heinous acts.
Probably explain the ISIS stuff too, people strung up on chains like meat in a slaughter house, rivers of blood on the floor. Hell on earth.
The nuke explosion off the coast of the UK was just shit-housing. Like when they released a map earlier in this week with the title "Decolonization of Europe"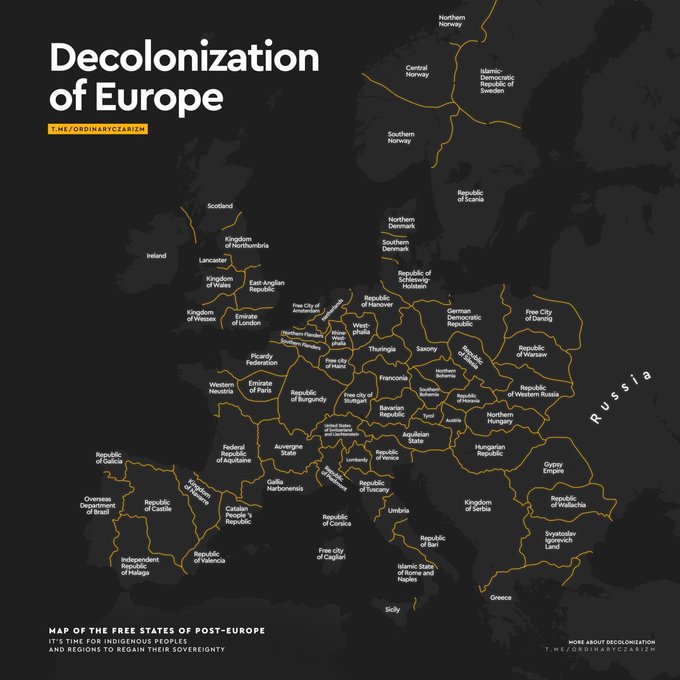 It's not to be taken seriously, but that didn't stop a lot of anti Putin mainstream media folks falling for it.
If you actually listen to Putin in his own words, rather than listening to the MSM you will hear a very consistent message from him. Russia has no intention of striking first with nuclear weapons.
Despite all the western propaganda that Putin is dying, or is on his last legs, when you watch him on camera, he still remains extremely quick-witted, lucid and sharp. The notion that he's this crazy old sick dude who could start a nuclear war on a whim is all far fetched western hysteria.
I'd have more worries about Sleepy Joe setting off a nuke.
I don't worry about nukes, but watch those that do and their hysteria. Those who scream the loudest…
Next, we find perhaps the most explosive slide to date, in which Russia FINALLY comes out and DIRECTLY accuses the US of being responsible for the creation and release of Covid-19. What I have been saying from the beginning, is that this allllll leads to C-19, which will be the nail in the coffin and the red-pill that wakes up the world.

The backlash the US are facing from Russia and the rest of Eastern world, is directly because the world found out THE UNITED STATES CREATED COVID. Specifically the "DNC/Liberal Globalists", as the Russians allege. Not Trump.

…The DNC Globalists were using Ukraine as the home base for production of the virus, then shipping the genome specific viruses to labs around the world, to be released to ensure the virus infected the entire world…

Src: Russian MIL Declares Ukraine Origin of C19! DNC Globalists Created Covid!
The Menace Global Skunkworks being taken down, one Hub at a time?