That's not how you spell assistants.
and I presume the word they're looking for is
Assistance
Oooooops!!!
Apologies!
Didn't realise I had misspelt "assistants" and misinterpreted the correction!
If you're talking about them working as special needs assistants then fine with the additional s
If you're talking about them signing on they're getting assistance from social welfare
welfare.ie/EN/Topics/payment … ments.aspx
With that picture in the middle, it's not clear what you're talking about, or whether you're trying to make a really bad pun.
Good work again. It makes me spitting mad that we are paying unsecured bonds and shutting hospitals and firing special needs assistants at the same time.
It was meant to be a compare and contrast.
There's no money to pay for Special Needs Assistants but there is money to pay unsecured, unguaranteed bondholder's.
There isn't really a "face" of SNAs - so the Dole sign was meant to be indicative of their future.
Every action has an equal and opposite reaction - and all that.
Might see if I can tweak it to make it more immediate.
I was mad that Bertie is entitled to his 2 assistants /secretaries whereas many children have had their 1 assistant or in some cases shared assitants removed.
I know it's smaller money than the Anglo bonds but it's more personal.
This is more an attempt to put some extra media with NAMAwinelake's countdown that he/she's been doing on Twitter:
twitter.com/#!/namawinelake/stat … 6244929538
Comical Mickey's party never said anything about burning Bertie (more's the pity) but they were very vocal about burning the bondholders - and if ever there were bondholders worth burning it's these ones - and yet…
Me too.
There is ENORMOUS waste in the education sector yet, within it, desperately needed SNAs have been let go.
And I cannot understand how, under the recruitment embargo, teachers can be replaced and nurses cannot.
Okay - any preference?
I still prefer the original - but if others think this works better then I'll switch: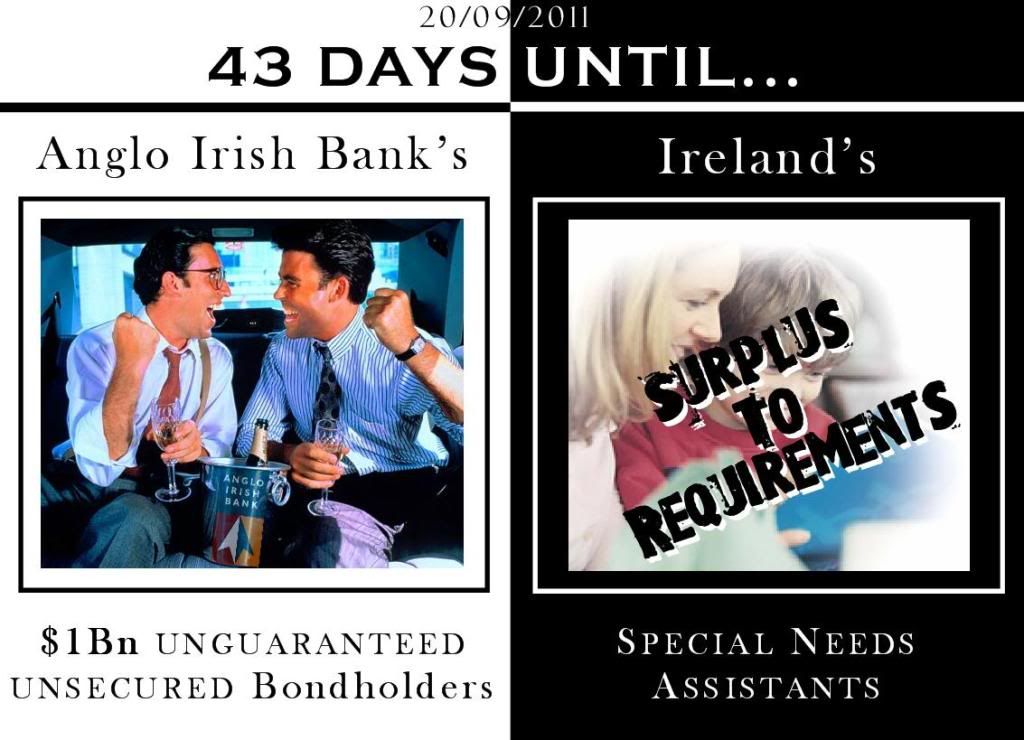 The revised one is better, IMO.
So, rather than buy it back on the secondary market at half-price, they promised to pay back face value shortly. Idiots
WGU, I know you're probably a vey busy man but could you put up one dated next Monday?
(Or put up a link to it)
I want to send a few off in the post this evening.
No biggie if you can't.