This shows Dublin house and apartment prices from the new Department of Housing, Planning, Community and Local Government available from housing.gov.ie/housing/stati … statistics.
They do not produce a breakdown by region within Dublin.
I have shown the average 2005 prices for new and second hand houses and apartments for comparison.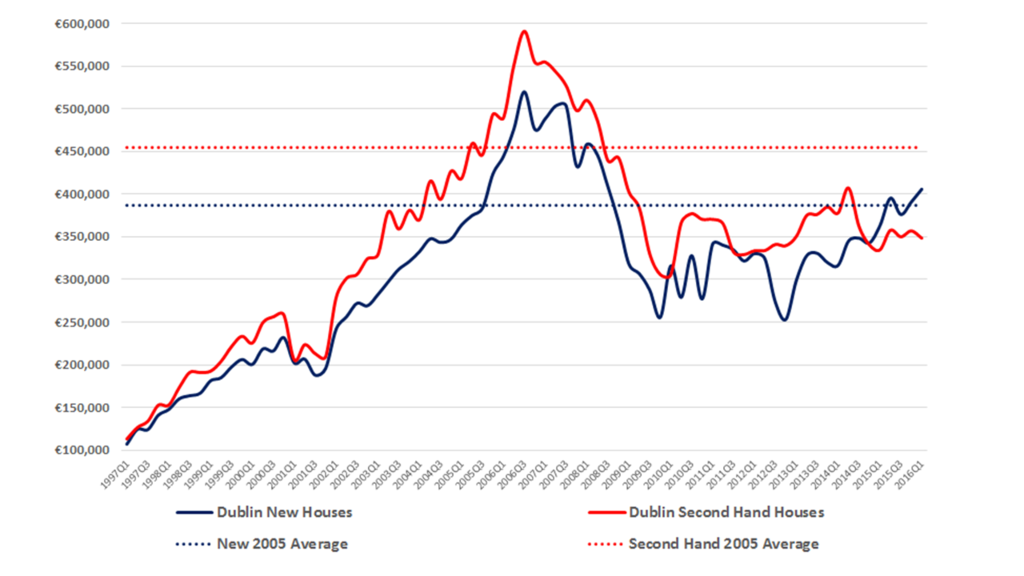 These show that new house and apartment prices are at 2005 average levels.
This shows the CSO's restated property price index for all property types (new, second hand, house, apartment) Dublin since 2005 and for Dublin South since 2010.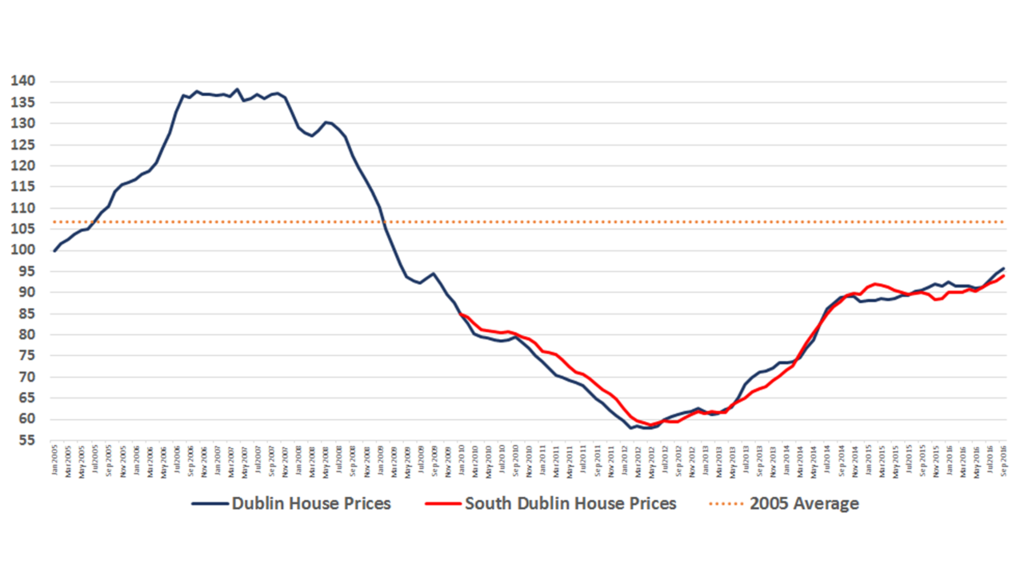 This CSO index shows Dublin prices still below 2005 levels, but not by much.
This shows the number of units of apartments and houses for which planning permission was granted by the four Dublin local authorities.
Clearly there is a lag between when planning permission is granted and when the units are finally built and available from 2001 to 2016.
For example, the original planning permission for the Marianella development mentioned here on a different thread was granted in 2009. The 250 or so houses and apartments will not be available for occupation until mid 2017 at the earliest. These 250 units will provide around 1,000 bedrooms.
This delay associated with this development may not be what generally occurs and there may be specific circumstances that caused it. But its shows the sort of lag that exists.
There is also a lag between when the development is conceived, plans are drawn-up, finance is arranged and when planning permission is finally granted.
Bear in mind that the population of Dublin has increased by around 165,000 since 2005. These are the official figures around which I have some degree of scepticism, especially for Dublin. I feel the number may be an underestimate. This additional 165,000 people is at all ages. If you look at the increase in people aged 20-49 the increase is a more modest 31,000. You could regard this as the property-demanding age, either looking for properties to rent or buy.
The population size under ten years increased by over 50,000 since 2005. So there are more new families and existing families are getting bigger which leads to a different type of demand for larger apartments and houses.
It may feel that house prices are approaching peak levels. They are not there yet. But given Coveney's incompetence and the current property shortage without any real new supply, they may get there soon. That worked out so well the last time so let's do once again.
Now this brief analysis does not take in account factors such as the growth of dormitory towns outside Dublin.
I also have not cross-referenced price data with that from the Property Price Register.
The property market was very different in 2005.
Before 8 December 2010, much higher stamp duty rates applied: 0% on values below €125,000, 7% on the next €875,000 and 9% on the balance.
Also, in 2005:
• 37.3% of mortgages were fixed rate in one form or another
• 8.9% of mortgages were interest only with a number of these being trackers
For new properties, the ranges of mortgage durations were:
21% - 20 years
25% - 25 years
28% - 30 years
23% - 35 years
2% - > 35 years
For second hand properties, the ranges of mortgage durations were:
28% - 20 years
28% - 25 years
24% - 30 years
19% - 35 years
1% - > 35 years
The profiles in 2016 would be quite different with few, if any, interest only mortgages, no tracker mortgages and possibly different ranges of mortgage durations.
So, not a lot of properties in the planning pipeline to accommodate current and future population growth means demand outstrips supply with its inevitable and utterly forecastable and forecasted consequences. If you listen hard you can hear the echoes of the drumbeat on this topic from some time ago.
I have always felt that the actions by the Central Bank in trying to limit demand but not taking any concomitant actions within their sphere of influence in relation to supply, that is, speedier foreclosures on properties whose loans are in arrears are inconsistent, if not hypocritical.
The property market can be regarded as a waterbed. Water is virtually incompressible as, to a similar extent, is demand for property. So you when press down on one part of a waterbed, it rises elsewhere.
So limit demand for house purchases causes an increased demand for rental units. This leads to increased rents as a larger demand chases a smaller supply.
Some compression of demand is possible:
• Children staying at home longer
• More people sharing the same house of apartment
But this is limited.
The panem et circenses distracting farce of water charge protests so beloved of the fragmented and Looney Left and characterised by spit-flecking unblinking bulging eye fulmination and endless trudging marches while major cost issues are ignored is depressing.
Oh no, I can't be paying €160 a year for shit-free water for me and my family. Protest about paying €100,000 more for a home. That's too much like hard work. Hang on til I lubricate my hole to make fucking me easier.
If the deluded are so stupid as the buy the ignore-the-mote-in-your-eye-the-beam-in-my-eye unbalanced focus on the issues by the Looney Left then they really do deserve to pay higher property prices.
Now the Looney Left is trying to get some interest in rent controls as if that will have anything other than a negative effect on supply.
The Left has been playing keepy-uppy with the water charge ball and let all the other far bigger balls drop and bounce into the distance.
It is also going to act as a brake on economic growth.
Rebuilding Ireland my arse. I would not let Coveney play with a junior lego set, let alone the property supply of a country.