The Menace, hear it speak, starts approx 1:40
Well the Ice age farmers video didn't last too long on menace tube, can't be that open with the plan.
Persuasive thesis I think @Open_Window
Although I'm not sure that "individualism" is the problem…but that's an argument about labels. As Mary Harrington says, it's the "untrammeled individualism" that's got us here. But I think the collectivist nature of the Far Left has had a lot to do with it too.
No wonder the modern Satanic Temple is now (as the Guardian suggested in 2019) hard to distinguish from the liberal "good guys". At its core Satanism is simply the doctrine of untrammelled individualism, shorn of any link to the divine. To put it another way: Satanists are just very, very liberal.
Infiltration instead of invasion
All should listen to this video:
Head of the World Economic Forum Klaus Schwab at Harvard's John F. Kennedy School of Government in 2017:

"What we are very proud of, is that we penetrate the global cabinets of countries with our WEF Young Global Leaders… like Trudeau"
More names in the video: https://mobile.twitter.com/MaajidNawaz/status/1485982015048622090
This was a great article from back in the days when we were wondering why they hadn't cancelled the rugby match with Italy.
It was made very clear that lockdowns were not being used for any purpose other than generating longterm compliance purely for compliance sake.
That's quite something. But as stated it's alway good to let these people speak for its through their words and actions you will know them.
I think it's clear that most of the western ruling class share a similar mindset.
And here's the same guy speaking during the past few weeks about Ukraine ….
Note his newly rediscovered belief in collectivist concepts such as national self determination flowing from a nationhood dating back "a thousand years or more".
Presumably Marie Antoinette was similarly secure in her convictions and perceptions of the lower orders once upon a time
Mirror Mirror On The Wall Who is the Fairest of them all!
2020
---
Problem: WHITES
Reaction: Vaccine Refusers!
Solution: IMMIGRANTS!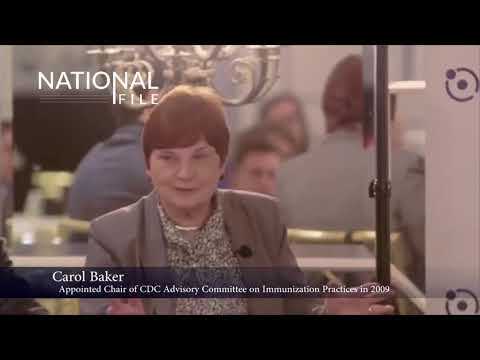 "We'll just get rid of all the whites in the United States"

Chair of Advisory Committee on Immunizations floats racially-based depopulation plan

op Center for Disease Control official was caught on tape in 2016 saying that society should "get rid of of all the whites in the United States" to reduce the number of people who refuse vaccines.

Dr. Carol Baker made the alarming remarks during the "Achieving Childhood Vaccine Success in the U.S." panel discussion sponsored by the National Meningitis Association in New York City on May 9, 2016.

"So I have the solution. Every study published in the last five years, when you look at vaccine refusers," Baker told the panel. "I'm not talking about…hesitance, most of them we can talk into coming to terms. But refusers. We'll just get rid of all the whites in the United States…Guess who wants to get vaccinated the most? Immigrants."

Notably, Baker was appointed Chair of the CDC's Advisory Committee on Immunization by Obama's Health and Human Services Secretary Kathleen Sebelius in 2009.

The Houston doctor was also honored with the Sabin Vaccine Institute's 2019 Albert B. Sabin Gold Medal at a Washington D.C. ceremony sponsored "in part by the Bill & Melinda Gates Foundation and Pfizer."

Is it really that surprising a Bill Gates-connected CDC official openly suggested depopulating whites who don't cooperate with their mandatory vaccine agenda?
Please move if wrong thread
Worth a read. About autism treatment but draws parallels to current menace activities.
The last sentence really struck me.
"I don't know what I thought I'd find there. Maybe I was looking for the answer to how terribly and repeatedly we as people can get our responses to nature so wrong. The courtyard was empty, brilliantly sunny. The brick buildings were old and graceful, like hallowed monuments to science. I had to remind myself there were decades of abuse, psychological terror, and forced separation from parents within the walls of this place. And for all those years, staff watched and participated without a single one of them speaking out."
A face only the Menace could love.
And Waves are Back.
Vaccine Fatigue wha?