I would say 21 Ailesbury Road is a reasonably fair comparison - bay-windowed two-storey over basement Victorian with nearly same length gardens (51's is a bit wider, but 21 had a coach house suitable for conversion). That said, ignoring the lack of mews potential, 51 itself is a better house being semi-detached, rather than end-of-terrace and enjoys a significantly wider site and greater privacy.
21 was sold in 2006 for €12m and flipped in 2007 for €13.95m. It appeared in the PPR in 2013 at €4.5 million but it wasn't 'sold' - just a restructuring of ownership.
Was supposedly (per agent) 4,950sqft (incl. a since removed non-original rear extension) when sold in 2007, however it has since been fully refurbished and extended since and the mews has been renovated too. Pics:
cantrellcrowley.com/Resident … ublin4.php
51 looks nice - love the front elevation, especially the first-floor orangery. There have been some whopping extensions on this side of the street in the last decade - biggest extension was probably to a detached house a few doors away, which ended up at over 11,000sqft. Plenty of other impressive ones too.
I am pretty sure that this was being offered by a few agents in 2013.
Don't think this has a proper back garden, which would make this price level almost impossible, UNLESS an embassy wanted it.
Example being 81 Ailesbury Road, which had a full south garden, and sold last year (at the mini-peak), for 4.4m.
(i.e. it was not anothr "internal restructuring" sale that so you see on this road).
Address Information
81 AILESBURY RD
DONNYBROOK
DUBLIN 4
Dublin 4
Dublin
Sale Information
Date of Sale: 15/09/2014
Price: €4,410,000.00
Not Full Market Price: No
VAT Exclusive: No
Description of Property: Second-Hand Dwelling house /Apartment
51 Ailesbury Road, Ballsbridge, Dublin 4
€5,750,000 - 5 Bed Semi-Detached House 530 m² / 5705 ft² For Sale
myhome.ie/residential/brochure/51-ailesbury-road-ballsbridge-dublin-4/3369585
https://photos-a.propertyimages.ie/media/5/8/5/3369585/74579cc0-504d-4e04-99fd-07ecda4a2838_m.jpg
This is not a forced seller, and therefore they have picked the highest possible price (and way beyond, in my view) to see what happens over a few years, in the hope that an Embassy or Corporate might take it. However, it is still worth calibrating 51 Ailesbury Road, with other "real" PPR transactions (vs. the "internal restructuring" transactions that appear on the PPR in this area, that some agents have been quoting on their "valuation reports" for banks and buyers - i.e. 25 Ailesbury Road's recent re-appearance on the PPR for 3.5m thepropertypin.com/viewtopic.php?p=870131#p870131, or 73 Ailesbury Road appearance on the PPR for 6m).
NOTE - I have scrubbed the top 100 Dublin high-end PPR deals of this issue (and other issues) for 2012-2015, and posted them on this link: thepropertypin.com/viewtopic.php?f=10&t=65796
[1]. For 51 Ailesbury to sell above even 5.5m, it would be the 6th highest house sale in Dublin since the bottom in 2012.
The other 5 are:
12-10-12 1 'Lissadell', 9 Shrewsbury Road 6,000,000 c. 0.50 acres (Irish buyer)
14-05-14 1 Deepwell, Rock Hill, Blackrock 7,923,900 c. 2 acres (UK buyer)
08-08-14 2 2 Shrewsbury Road, Ballsbridge 6,500,000 c. 0.80 acres (Swiss-based Irish ex. pat).
31-08-15 1 SORRENTO HOUSE, 1 SORRENTO TERRACE 10,000,000 c. 2 acres (UK buyer)
04-02-15 2 Strathmore House, Strathmore Road, Killiney 7,500,000 c. 7 acres (US buyer)
51 Ailesbury Road is nowhere in the league of the above houses (and many others sold since 2013).
[2]. When you strip out the "internal restructuring" PPR entries on Ailesbury Road (i.e. often being done for bank financing purposes), the last big +4m Ailesbury Road sales, on the attractive south side of the road (i.e. odd numbers), are either:
(a) Massive high-end renovations like the +8500 sq ft 45 Ailesbury Road (super interior) for 5.3m in 2014, or thepropertypin.com/viewtopic.php?f=10&t=61482&hilit=45+ailesbury
(b) Older houses with "perfect DNA" ready for renovation, like 81 Ailesbury Road for 4.4m in 2014, which had a full length back garden (not the half-garden of #51), separate muse development option (for sale or to keep) with access road on back (which #51 also does not have, but #81 did), plus a large extension capability on the side (#81 was so wide they had another muse there).
51 Ailesbury Road is not in the class of either of the above two houses, and both sold in the mini-peak in Dublin high-end of 2014 (see earlier link for discussion on recent pricing: thepropertypin.com/viewtopic.php?f=10&t=65796). #51 is in the "half-garden" segment with no separate road or lane access to the back garden (must have sold the lower half of their back garden years ago, and it is now a neighbor's tennis court).
[3]. 7 Shrewsbury Road (Mugnano) sold for 4.8m at the start of 2015 (just after the mini-peak of high-end D4).
PPR 14-04-15 'Mugnano', 7 Shrewsbury Road, Ballsbridge 4,800,000
Mugnano was a 5,500 sq ft semi-d house (as per #51), but in much better condition than 51 Ailesbury Road (a developer owned it), and in the more sought after Edwardian 2 story styling, AND with bigger back garden, AND on a far (far) more valuable road.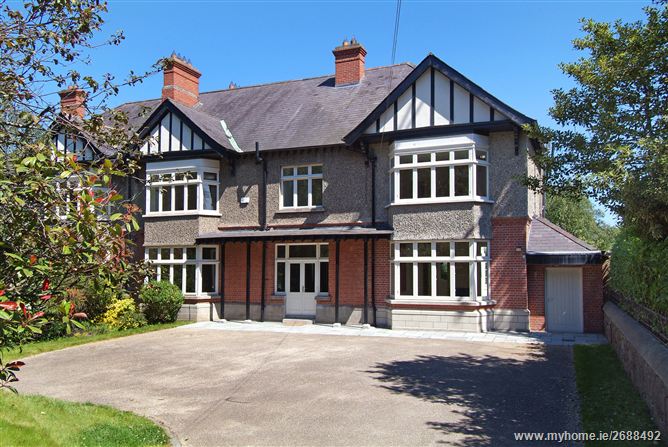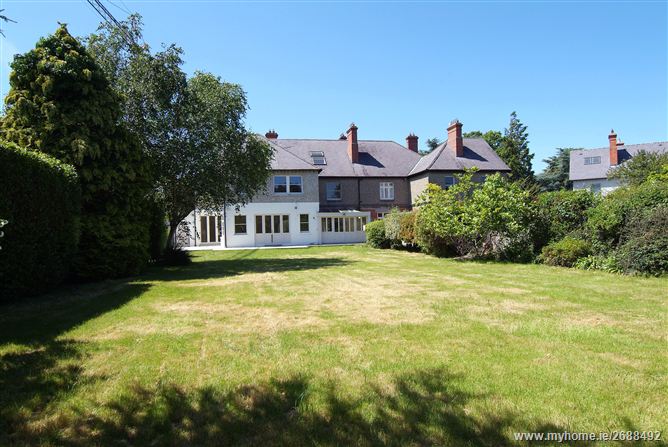 See link for photos :property.breakingnews.ie/residential/brochure/2688492
Right up to Mugnano's foreclosure in 2014, Dublin EAs were "valuing" Mugnano in their receiver reports at Euro 6.0-6.5m.
independent.ie/irish-news/courts/nama-set-to-take-6m-home-of-priory-hall-developer-29352224.html
51 Ailesbury Road is not worth as much as Mugnano (or anywhere near it), plus the market has softened since then.
I think that Sherry Fitz are happy to put up 51 Ailesbury Road to help their "off market" business, and you just never know when an international buyer walks into town with lots of cash and no local advice
The danger of course is that the current slowdown in Dublin high-end (prices back to 2013), gets more protracted, especially as the important London property market + Sterling (big drivers of Dublin high-end from ex. pats) continue to deteriorate.
More like a few weeks (since your post)!
Sale agreed already.
Has been for sale in the off market since 2013 (over 3 years now)
Maybe so, but your post referenced the recent on-market listing.
Possible sign of some heat returning at the higher end.
The high-end has been dead in Dublin for almost 12 months now (especially since London property + Sterling began to fall).
Doesn't mean that every so often somebody with cash from outside (usually) town doesn't walk in and get taken by the local EAs. There is an SF "valuation" of 51 Ailesbury (for possible buyers), that quotes three other transactions in the area as evidence, despite the fact that all three are internal restructuring deals (and at least two were certified by SF themselves).
So you have been telling us repeatedly for the past few weeks.
I do enjoy reading your posts, great info! But … maybe the high-end market is no longer as dead as you seem to think.
that is always a possibility BillG.
and in the longer-run, a probably a certainty.

but i am very interested in the micro of the high end (vs. EA / "bubble media" BS), and i suspect that London is having an effect.
if that is correct, the further weakening in London (and £ in the last few weeks), will worsen things further in the near-term?
51 AILESBURY RD
DUBLIN 4
Date of Sale: 28/10/2016
Price: €5,900,000.00
Achieved over asking price. The contents and the owner's Maserati Quattroporte were auctioned off recently.