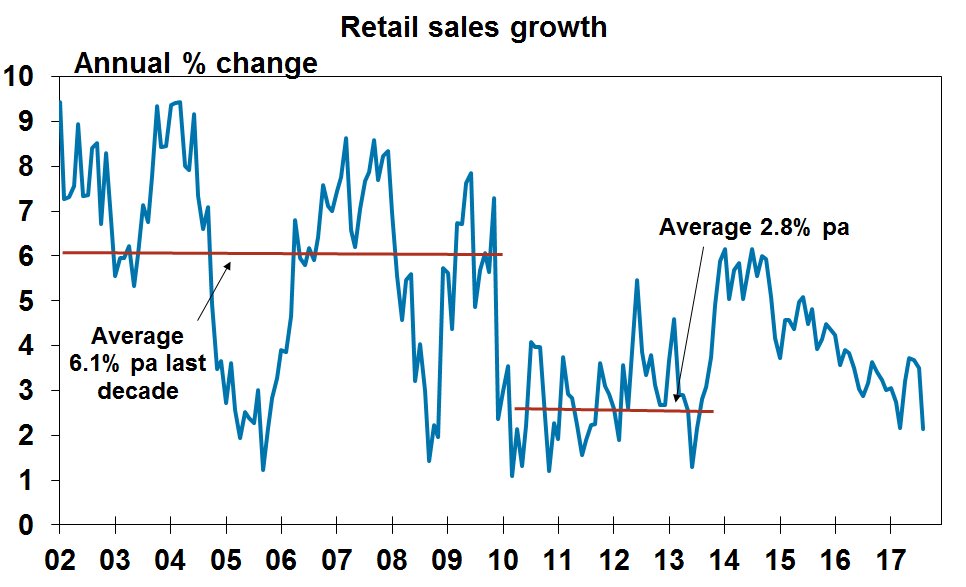 Quote:
Shane Oliver
@ShaneOliverAMP
Head of Inv Strategy & Chief Economist at AMP Capital

https://twitter.com/ShaneOliverAMP
Quote:
A slump in Australian retail sales in July and August is no cause for immediate alarm, but a response through interest rates could be warranted if consumption across the economy loses momentum entirely, according to Reserve Bank board member Ian Harper.

While Professor Harper also pointed to positive economic data out recently, including employment and investment figures, his comments suggest the Reserve Bank of Australia will likely remain cautious for longer than expected, with the possibility of another rate cut not completely ruled out.

http://www.theaustralian.com.au/busines ... 38dbd25991
Quote:
"I told you so." That would be the reaction from a handful of economists who saw today's incredibly weak retail sales result coming.

Economists had generally expected sales to rise 0.3 per cent, after a flat result in July.

Instead they got what Commonwealth Bank senior economist Gareth Aird labelled "a shocker" — the 0.6 per cent slump in retail turnover during August was the worst in almost four-and-a-half years.

Adding to the negative surprise was a downward revision to July's number, now a 0.2 per cent fall.

Worse still, the weakness was spread across the country, with sales in every state falling.

Even worse, sales fell in almost every type of retailing — among the biggest declines were a 1.8 per cent slump in the previously booming restaurants and cafes sector and a 1 per cent drop in household goods sales, including a dive in electronics.

A handful of people saw the fall coming, but even they didn't quite predict the magnitude of the drop

Quote:
the regulator's efforts earlier this year prompted most banks to lift investor and interest-only home loans rates by an average 0.5-0.75 percentage points — Sydney prices fell (slightly) in September for the first time in 17 months.

Wages growth has continued to flatline — at 1.9 per cent it's the lowest since the last recession.

Not only that, from July 1, thousands of retail and hospitality workers started losing part of their penalty rates.

On top of all that, households have just been whacked with a 15-20 per cent rise in utility prices from July 1 on.

Quote:
Retail weakness over the past two months more closely matches conditions early this year, with a flat month in February and small sales decline in March, while big retail turnover gains in April and May are increasingly looking like the outliers.

Household consumption is 60 per cent of the economy — if spending growth dries up, generally economic growth does too.

Already, many economists are scaling back their GDP forecasts for the September quarter, with some expecting little to no growth at all.

Few expect economic growth to match Reserve Bank forecasts centring on 3.25 per cent next year and 3.5 per cent the year after.

http://www.abc.net.au/news/2017-10-05/r ... -e/9019732
Quote:
The ugliest and most concerning chart in Australia.

AUSTRALIAN RETAIL SALES TANK

David ScuttVerified account
@Scutty
Markets and economics reporter, Business Insider Australia (@BIAUS). Ex markets guy at @arabbankgroup and @commbank.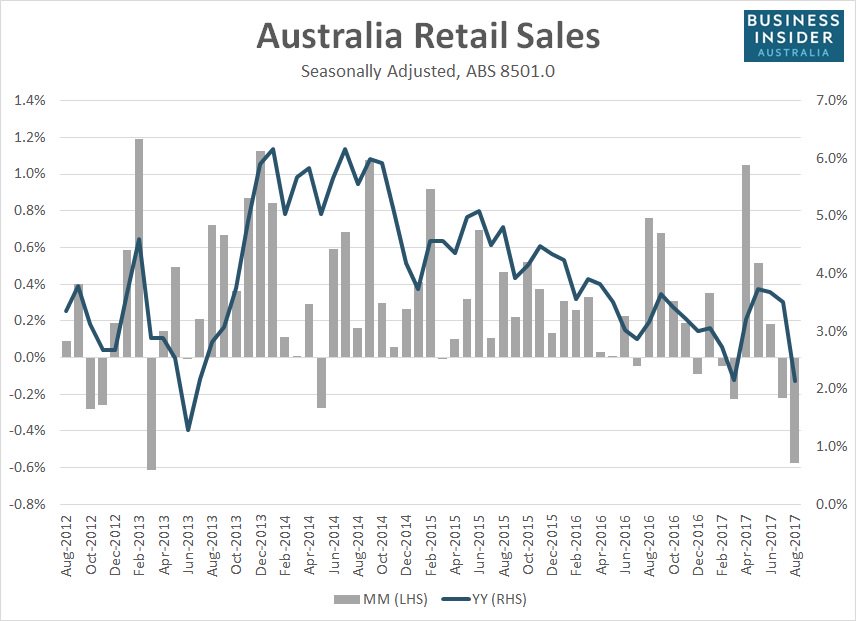 https://twitter.com/Scutty/status/91574 ... 92/photo/1