except the 3 peat power stations you refer to are capable of producing when most needed - winter evenings. How much electricity do you reckon solar produces at the time of peak demand i.e.
Solar works well for countries with lots of sun and lots of sun-related demand (i.e. for air-conditioning) - Ireland is further north than all of the contiguous United States - meaning that most American examples are not applicable ( I say this as most people seem to get their electrical engineering knowledge from Facebook these days)
There's a reasonable chance that it might be windy on a stormy December evening - is it really that much of a leap to think that it might be better for Ireland to focus on utility-scale wind generation rather than indulging hobbyists with their PV panels on their (not even optimally aligned) roofs
Against my better judgement, I have decided to make one last post here on the specific topic of PV microgeneration in Ireland which has been left hanging.
I have divided this into two sections:
1. Analysis of electricity demand correlate with sunrise and sunset times and PV generation potential for Ireland
2. Summary of results of analysis performed by an Australian generator on the impact of PV generation on the electricity supply market
The analysis is done in the context of the use of PV for microgeneration and whether PV microgenerators should receive microgeneration-related supports and subsidies.
Electricity Demand in Ireland
These four charts show the electricity demand in MW by hour of day for the weekdays for the months of 2013. I have grouped the months into threes: Jan-Mar, Apr-Jun, Jul-Sep and Oct-Dec. I did not exclude public holidays from the weekdays for the high-level analysis. This is the reason for the outliers in the usage curves.
The sunrise and sunset times are affected by daylight savings adjustments.
Now the demand figures will contain an element of normal cyclical demand and a trend of changes in underlying usage that may be caused by economic and demographic factors. In 2013 as the economy started to recover, electricity demand and usage would have increased over the year, outside normal patterns. I have excluded this from the analysis because it would add greater complexity, take much longer and not add much to the overall conclusion.
The red shaded boxes overlaying the demand curves show the average sunrise and subset times for the months.
Finally the red triangles show the potential PC generation profile for the three months. The actual PV generation profile depends on actual solar radiation.
Analysis for Jan-Mar
For Jan-Mar. the average hours of sunshine across the months is:
• Jan - 53.4
• Feb - 80.8
• Mar - 110.4
So the peak system demand occurs around 6 pm when the sun has set and PV potential is zero.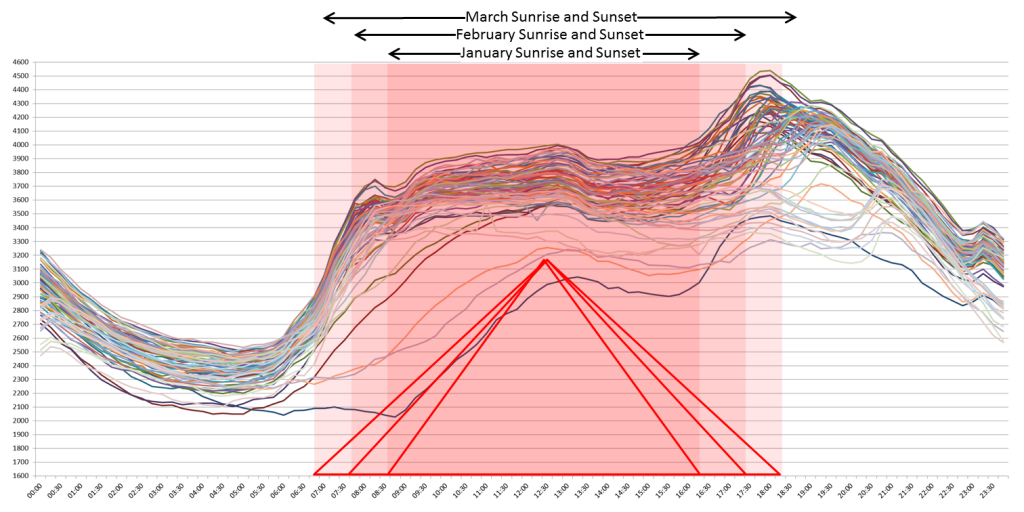 Analysis for Apr-Jun
For Apr-Jun. the average hours of sunshine across the months is:
• Apr - 164.3
• May - 208.8
• Jun - 173.5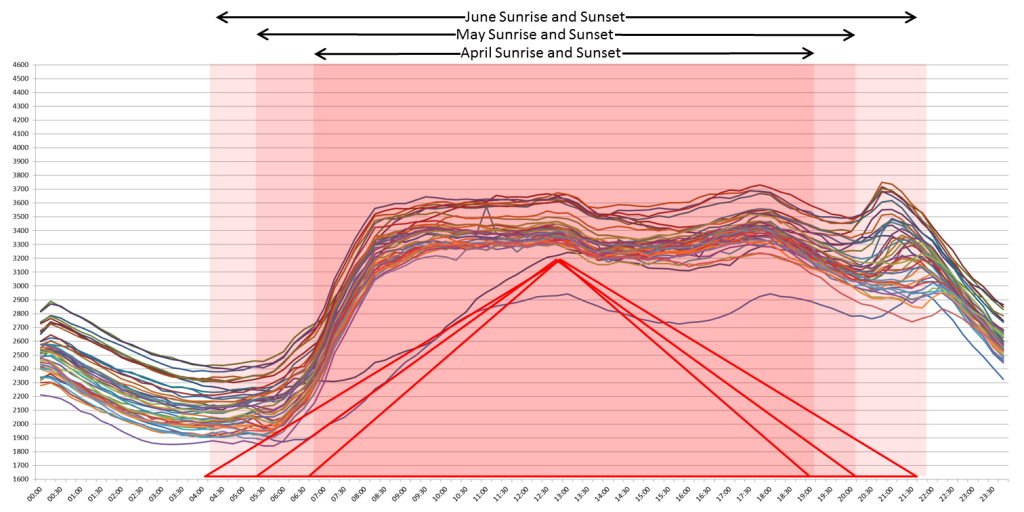 A minor point worth noting is that the peak in these months is lower than for Jan-Mar and occurs later.
Also average electricity demand is lower in the months Apr-Jun that for Jan-Mar.
Analysis for Jul-Sep
For Jul-Sep the average hours of sunshine across the months is:
• Jul - 159.4
• Aug - 150.9
• Sep - 127.1
Average electricity demand is lower in the months Jul-Sep that for other months.
Analysis for Oct-Dec
For Oct-Dec, the average hours of sunshine across the months is:
• Oct - 104
• Nov - 73.2
• Dec - 54.8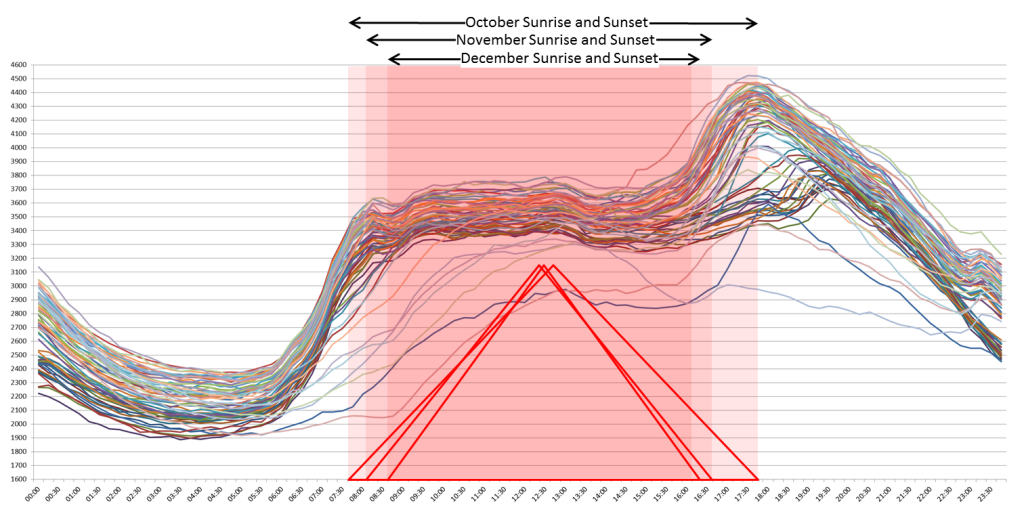 As with the months Jan-Mar, there is a pronounced peak around 17:30 to 18:00 that occurs after sunset when PV generation potential is zero.
In general, electricity demand is greatest in Oct-Mar when PV generation potential is at its lowest.
Hours of sunshine in not the only measure of PC generation potential. You also need to consider the energy provided in the sunshine.
This table shows the average hours of sunshine per month and the average energy in kWh per square metre per month across all of Ireland. The sunshine energy numbers are available at
http://www.met.ie/climate-ireland/sunshine.asp
.
Code:
Month Sunshine Hours % of Max Sunshine kWh/m² % of Max Average kWh/m² Per Hour
Jan 53.4 25.57% 187.61 12.83% 3.51
Feb 80.8 38.70% 345.09 23.59% 4.27
Mar 110.4 52.87% 684.97 46.82% 6.20
Apr 164.3 78.69% 1096.60 74.96% 6.67
May 208.8 100.00% 1462.83 100.00% 7.01
Jun 173.5 83.09% 1444.78 98.77% 8.33
Jul 159.4 76.34% 1371.17 93.73% 8.60
Aug 150.9 72.27% 1148.96 78.54% 7.61
Sep 127.1 60.87% 816.43 55.81% 6.42
Oct 104 49.81% 475.48 32.50% 4.57
Nov 73.2 35.06% 230.85 15.78% 3.15
Dec 54.8 26.25% 144.69 9.89% 2.64

So, while the sun shines in the month Oct-Mar, the energy is lower again. Dec has 26.25% of the maximum number of hours of sunshine but only 9.89% of the energy of the maximum month. This is hardly surprising.
Conversely, while the number of hours of sunshine in Jun and Jul is lower than the maximum, the amount of energy it contains is close to the maximum.
This final chart in this section shows the weekday maximum and minimum demand for workdays in 2013.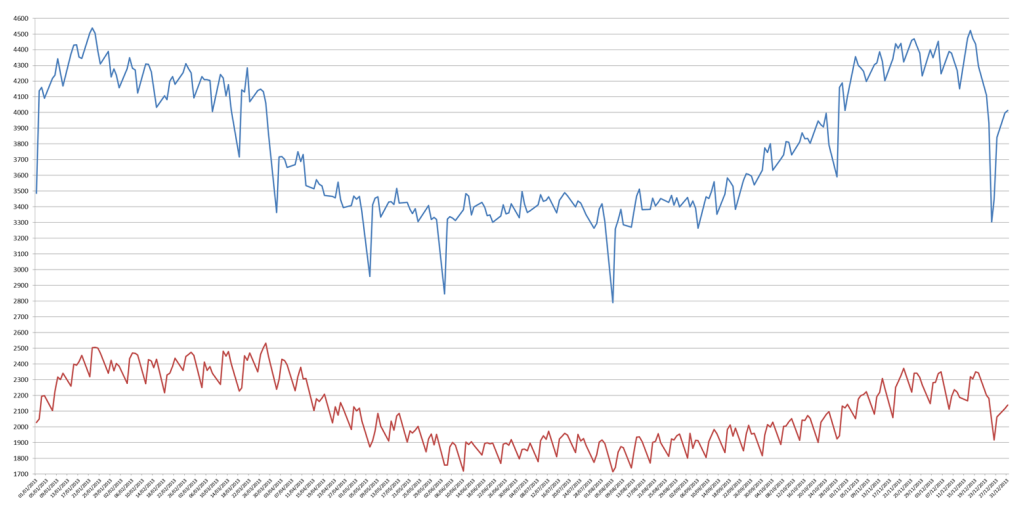 This confirms that, electricity demand is greatest in Oct-Mar when PV generation potential is at its lowest.
Australian PV Analysis
This analysis was done on mass market electricity tariff pricing structures, pricing models and recovery of transmission and distribution costs in the context of increased PV generation.
PV generation is considerably more realistic in Australia and other locations such the South-West of the US than in countries like Ireland.
The following shows the profile of PV output during the day.
PV generates electricity well is the middle of the day.
Quote:
Solar PV has a hollowing out effect on the day time off-peak load. More importantly, the PV portfolio is not making any significant contribution during the peak load. Peak load is a key driver of capacity investments in network elements. The following pictures highlight the hollowing out effects of the solar PV on the consumption profile, assuming 40 % propensity for solar PV uptake.
Quote:
As the network business are rate of return regulated so if the energy volume drops resulting in a decrease in the network revenue, the energy price has to go up, to protect the return. Hence, the tariff charged to the customers increases.
Well off customers with Solar PV will experience:
Quote:
Consumption of Grid Power reduces, resulting in lesser network revenue.
More benefits provided by Government for increased PV
Financially weak customers without Solar PV will experience:
Quote:
Consumption of Grid Power alternative option
Need to pay more due to increased tariff rates
Quote:
Thus it is a regressive approach, where in the financially strong customers are incentivized at the cost of poor one.
Quote:
The main problem in the current As Is approach is the formation of the Vicious Cycle. As the electricity transmission and distribution are regulated monopoly businesses, so network tariffs are based on a regulated return on their asset base at the start of each regulatory period. If underlying energy growth rates decline, (due to the hollowing out of the day time load by the Solar PV) network tariffs (which form nearly half of final electricity prices) have to be increased if regulated returns are to be met under the current regulatory framework. Falling underlying energy consumption results in higher tariffs, because the heavy fixed costs of networks are spread across fewer units of output, (primarily non Solar PV user) holding all other variables constant. These in turn results further shifting towards solar PV by the consumers (having solar PV) resulting further increase in tariff for the consumers without solar PV. The following figure highlights the "Vicious Cycle "arising out of this situation.
Conclusion
I have nothing against people investing in PV generation for the own use, saving and well-being.
I do have an issue with those people expecting a subsidy in the form of payments for token amounts of expensively generated electricity supplied to the network at times of the day and days of the year when it is not needed.
For those who want electricity outside hours when sufficient can be generated from PV, there will always be a need for conventional generation and a conventional electricity transmission and distribution network. Those who want to supply their PV generated electricity to the network also require a conventional electricity transmission and distribution network.
Capacity planning in any system is complex. You have to decide what peak you are catering for: daily peak, monthly peak, annual peak or lifetime peak.
You have to consider what happens when demand exceeds the peak. In many systems, the result is no more than increased queueing times reflected in slowness of operation. For electricity the result is considerably worse. This can be compensated for to some extend by the use of Demand Side Units (see
http://www.eirgrid.com/operations/ancil ... sideunits/
) where a user allows their supply to be reduced in return for a payment.
Again, this complex balancing of supply and demand in response to the variability of renewable generation requires an a large-scale conventional electricity transmission and distribution network.
Installing PV generation is a lifestyle choice. You will not save the planet with PV.