There is house building data available from a number of sources:
• New connections by ESB Networks which reflect both newly built residential units and derelict/abandoned/previously not completed units that are connected to the electricity network
• Commencement notes which are logged in the BCMS (Building Control Management System) – see
https://www.localgov.ie/en/link-type/bcms
and
http://www.housing.gov.ie/housing/stati ... ity-starts
.
• Planning permissions
These data streams are not date-aligned. A residential property may be given planning permission. It may or may not start being built, in which case a commencement notice will be issued. The building might subsequently stop or be suspended. If the buildings are completed at some time in the future, those completed residential buildings will be connected to the electricity network.
In the interim, existing buildings will be demolished.
The source BCMS data is in PDF form and I really do not feel like saving it to a text file and parsing it to extract the sequence of commencement notices and their revisions to build an accurate view of residential property building.
Commencement notice data should be the most usable. However, I cannot comment on the level of compliance with supplying information, its accuracy and its quality.
The Department of the Environment will have access to this source data.
The time series are also not date-aligned. The CSO property data is from April of the census year. The other series are based on year-end values.
Not all series are complete. Planning permission data is available up to Q3 2016.
In summary, the data from the various series is:
Code:
Year CSO Dept Env New ESB Registrations Commencement Notices Planning Permissions
2016 2,022,895 4,844 12,046
2015 2,022,000 12,666 3,580 13,044
2014 2,014,000 11,016 1,269 7,411
2013 2,007,000 8,301 4,708 7,199
2012 2,003,000 8,488 4,042 6,250
2011 1,994,845 1,999,000 10,480 4,365 11,645
2010 1,992,000 14,602 6,391 18,478
2009 1,982,000 26,420 8,599 40,556
2008 1,960,000 51,724 22,852 67,584
2007 1,912,000 78,027 48,876 84,397
2006 1,769,613 1,838,000 93,419 75,602 78,755
2005 1,733,000 77,709 99,352
2004 77,691 101,653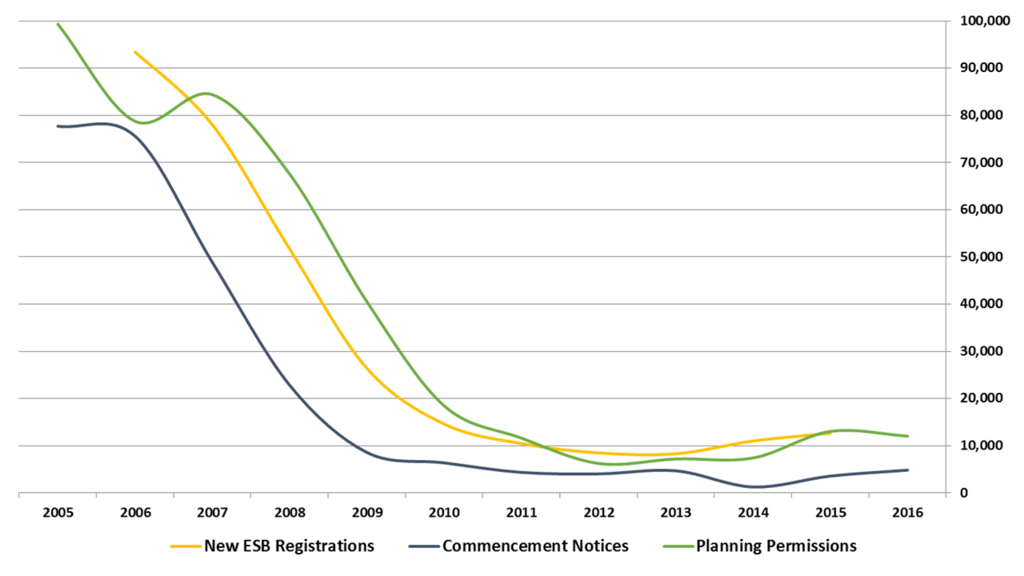 If you take the data from 2006 to 2015, you get the following:
• The CSO counted a net additional 253,282 residential properties from April 2006 to April 2016. That is an average of 25,000 a year.
• The Department of the Environment counted a net 289,000 additional residential properties from end of December 2005 to the end of December 2016.
• There were 315,143 new residential connections to the ESB network from 2006 to 2015.
• There were 180,284 residential commencement notices from 2006 to 2015.
• There were 335,319 residential units for which planning permissions were granted from 2006 to 2015.
The commencement notice numbers are very low relative to the number of new electricity network registrations. If this data is anyway accurate then residential property building is currently at less than 5,000 a year.
The residential supply pipeline should be able to be represented along the following lines: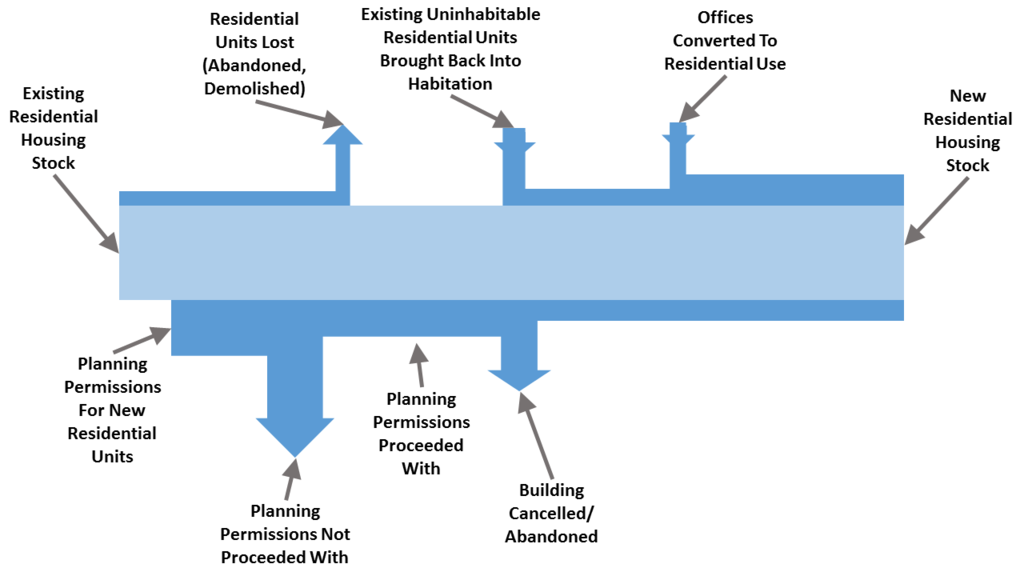 This is a continuous process.
Information of residential property availability can be matched with current and future residential property needs.
Eurostat publish statistics on household sizes:
http://ec.europa.eu/eurostat/statistics ... statistics
http://ec.europa.eu/eurostat/statistics ... _2016.xlsx
They say the average Irish household size is currently 2.7.
The CSO 216 census population and housing data is:
Code:
CSO Population Residential Unit Vacant Units Net Units People Per Unit
State 4,757,976 2,022,895 259,562 1,763,333 2.70
Dublin 1,345,402 534,652 36,732 497,920 2.70
Dublin City 553,165 242,397 21,781 220,616 2.51

So, in theory, housing supply and demand are in a precarious balance.
However, this data, both population size and housing, may not be accurate.
I previously posted my view of a plan for housing problems:
including the need for accurate information to allow effective decision-making:
Quote:
Accurate information needed on the size of the problem on current latent demand for residential property to rent or buy, volumes of property available, land available on which residential properties can be built with estimated timescales for construction based on state of planning and availability of facilities
Quote:
Information of the realistic number of vacant residential property properties that are suitable for occupation, including timescales, cost to acquire and make suitable, to understand if this is worth pursuing and if legal framework exists to achieve objectives
Quote:
Get information of suitable land available for zoning
Quote:
Information on finance requirements and options
Quote:
Information on demand for new residential property of all types in required locations in the short and medium term
Quote:
Information on issues relating to the availability of finance for buyers of new residential property
What is so obvious is that the Department responsible for housing policy and collecting information on house building has not got a clue despite all its resources. Its Minister is manifestly disengaged and incompetent.